Specifications
| | |
| --- | --- |
| Width | 23.4" |
| Depth | 26.8" |
| High | 69.6" |
| Net Capacity | 404L |
| Net Weight | 228.2lbs |
| Voltage | 110-120V 60Hz |
| Input Power | 180W |
| Energy Consumption | 0.578kWh /24H |
| Climate Class | SN.N. |
| Warranty | 1 Year |
Advanced Cooling System 
Empava wine cooler refrigerator is engineered with a powerful high-efficiency compressor and 3 convection fans to evenly distribute cold air throughout the cabinet so that the whole cooler can be maintained in ideal climate settings. Ensure that every bottle can keep the same humidity, preventing hot spots, frosting, and uneven cooling.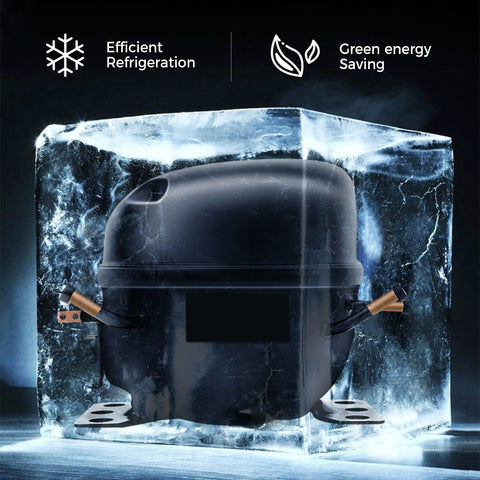 Dual Zone Temperature Control
You can customize the temperature by touching the control panel. Upper zone 40°F -50°F(5℃-10℃), lower Zone 50°F -66°F(10℃-18℃). The two zones feature different temperatures so that your wine is perfectly chilled at its optimal temperatures for pure enjoyment. The internal soft blue LED light keeps your wine in a beautiful environment, and helps the selection of your favorite wine at all times.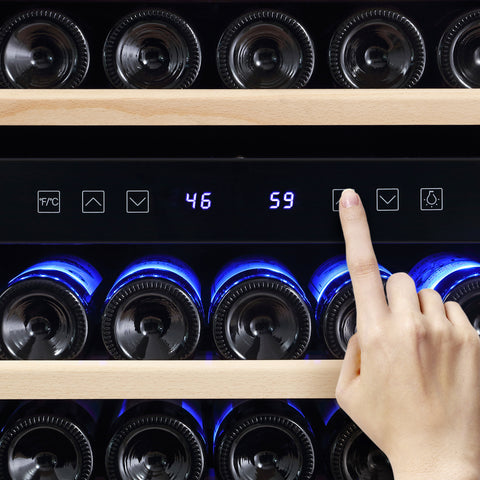 More Than A Wine Cooler
The Empava wine cooler is equipped with 15 adjustable and removable beech wood shelves, which can hold up to 160 bottles of your favorite wine in different sizes. As for irregular-shaped bottles, it is easy for you to store them by removing shelves. 14.3 cu. ft. capacity is suitable for wine bottles, beer cans, soft drinks, milk, water, snacks, and much more!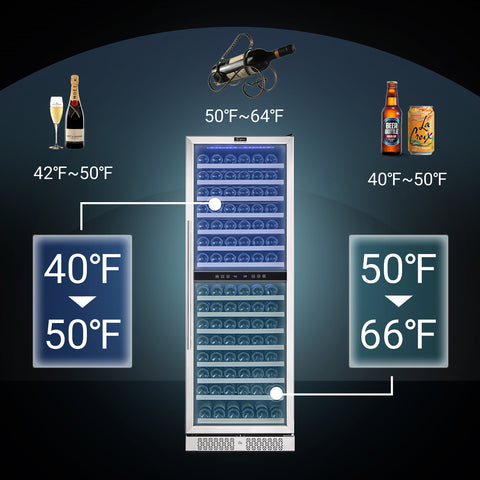 Support Both Freestanding And Built-in Installation
This Empava wine cooler can be left as freestanding or it will fit in a 23.8-inch gap underneath your kitchen worktop and a zero-clearance hinge allows for cabinet depth integration. The reversible hinged door allows you to install the door for either left or right-side opening. The roomy Empava Double Zone 160 Bottles Wine Fridge slides easily between standard base cabinets to create the ultimate wine cellar in your custom kitchen.

It can also stand alone anywhere you like. This sleek and slim 160 bottle wine cellar allows you to tuck your reds or whites away behind a tempered glass door. Effortlessly examine which bottle you'll indulge in next with fully extended smooth shelving.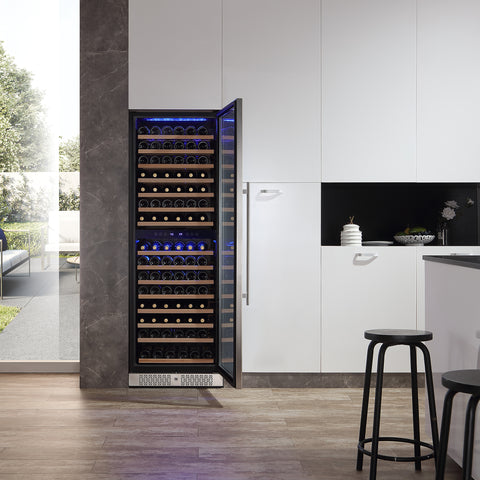 Extraordinary Construction
Smudge-resistant, easy clean 304 stainless steel stamped door includes Low-E glass for improved energy efficiency. The Empava wine cooler features a stainless-steel handle which makes it easy for you to open the door and gives the cooler a sleek and discrete look.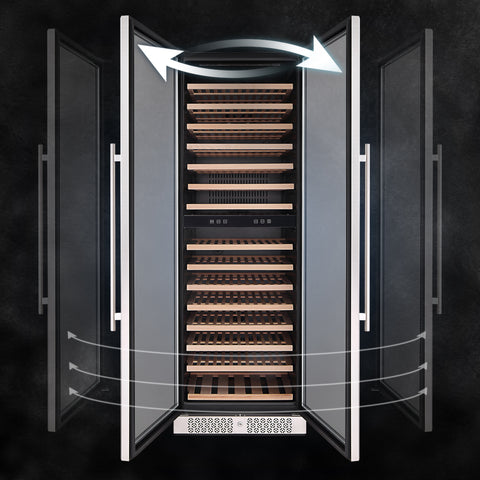 Anti-vibration Technology
The Empava wine chiller adopts a full-extension shelving system featuring exclusive anti-vibration technology, and an integrated wine storage system that cradles the wine, making it unnecessary to take out your wine before moving the cooler to another places.